Stan of the Swamp

Name

Stan of the Swamp

Species

Swamp Monster

Age

Unknown, adult

Gender

Male

Occupation

None known

Interests

Succotash, Keeping things that land in his swamp, holding up his "MINE" sign.

Relatives

First Appearance

Voiced by

J.R. Horne
A little grumpy, Stan of the Swamp is a swamp creature who resides in the forest swamp. Under all that grumpiness, his friends know he's got a soft spot. He always sits in his swamp and reads his newspaper. He is the uncle of Marsha of the Marsh. He's voiced by the late J.R. Horne.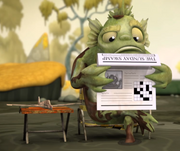 Stan has a stuffed bear doll named Mr. Fluffy.
Ad blocker interference detected!
Wikia is a free-to-use site that makes money from advertising. We have a modified experience for viewers using ad blockers

Wikia is not accessible if you've made further modifications. Remove the custom ad blocker rule(s) and the page will load as expected.