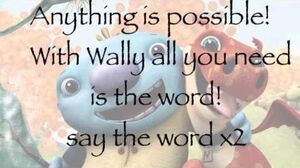 Say The Word
is the theme song to Nick Jr' show Wallykazam. It is played after the cold opening in each episode.
Characters Singing
Edit
Male Singer: Wally found a stick,
Waved it in the air,
All these magic words went flying everywhere
If you need a friend,
To lend a helping hand,
You can count on Wally
Wally Trollman: (Say Wallykazam!)
Male Singer: Anything is possible
With Wally all you need is the word!
Say the Word, Say the Word!
Wally Trollman, Gina Giant, Ogre Doug, Libby Light Sprite: Wallykazam!
Male Singer: Say it, Say it
Hear the music play it now
Say the Word, Say the Word
Various (see below): Woo-o-o-oo!
Male Singer: Wally, Wally, Wallykazam!
Norville: Ruff!
Ad blocker interference detected!
Wikia is a free-to-use site that makes money from advertising. We have a modified experience for viewers using ad blockers

Wikia is not accessible if you've made further modifications. Remove the custom ad blocker rule(s) and the page will load as expected.