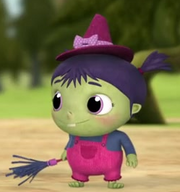 Cappie
is the younger sister of
Hattie
. She first appears in
Keeping Cappie Happy
. Hattie refers to her as her "baby" sister while the official description of the episode describes her as a toddler.
She is too young to speak, and actually casts a spell before being able to form a sentence. By saying "goo goo ga ga" she magically creates goo which covers Bobgoblin, who says he loves babies.
Ad blocker interference detected!
Wikia is a free-to-use site that makes money from advertising. We have a modified experience for viewers using ad blockers

Wikia is not accessible if you've made further modifications. Remove the custom ad blocker rule(s) and the page will load as expected.